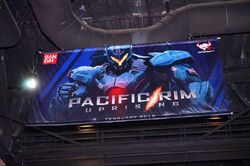 The San Diego Comic-Con International 2017 is a multimedia convention that plays host to upcoming comic book and major motion picture and television announcements. The 2017 San Diego Comic-Con began Thursday, July 20, to Sunday, July 23, 2017 in San Diego, California.[1] Unlike the 2011 and 2012 Comic-Con convention, none of the cast of Pacific Rim: Uprising were present for a discussion panel or Photo ops for major audiences in San Diego.
History
Prior to the beginning of the 2017 Comic-Con, Steven S. DeKnight reported on his Twitter account that he was uncertain that Uprising would be promoted at the convention.[2] July 10, 2017 DeKnight stated there would be no footage of the film previewed at the convention.[3]
July 19, 2017, DeKnight announced that he would be present at Comic-Con at the Tamashii Nations booth to promote the upcoming action figure line for Uprising. July 20, 2017, the previously unveiled Gipsy Avenger, Bracer Phoenix and Saber Athena action figures were showcased alongside Guardian Bravo, and Titan Redeemer.[4] That same day, an official display for the film's redesigned Drivesuits was set up at Comic-Con 2017 for public viewing.[5]
Viral Marketing
The viral marketing campaign for Uprising was unveiled July 20, 2017 at the San Diego Comic-Con.[6] gojaeger.com was promoted with a teaser trailer narrated by Ellen McLain (who was used in the promotion of the original Pacific Rim and the subsequent film), and featured music from Crackdown 3, composed by Chris Classic[7], with an appearance by John Boyega as Jake Pentecost.[4] gojaeger.com features a brief timeline of events regarding events that took place during Pacific Rim, blueprints for all five Jaegers revealed thus far, and the ability to "sign up" for the Pan Pacific Defense Corps.[6]
Videos
Gallery
Props
Tamashii Nations Figures
Soul of Chogokin Gipsy Danger
Robot Spirits Series
References
Community content is available under
CC-BY-SA
unless otherwise noted.