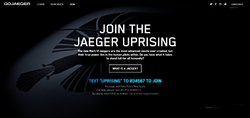 "The new Mark VI Jaegers are the most advanced mechs ever created, but their true power lies in the human pilots within. Do you have what it takes to stand tall for all humanity?"
—Introductionary text[1]
gojaeger.com is a viral marketing website dedicated to the promotion of the 2018 film Pacific Rim Uprising.[2] The website was launched in June 20, 2017[2] to promote the upcoming Universal and Legendary Pictures film.
History
Like panpacificdefense.com, gojaeger simulates recruitment websites used by military organizations. The main page prompts visitors to use their cell phones to "TEXT "UPRISING" TO 834567" to join the "Jaeger Uprising" promoted in the In-universe promotional trailer featuring Jake Pentecost.[1]
The website was sectioned off into two parts: "Learn" details the various upgrades made with the "Mark-6" Jaeger, and features high resolution blueprints of the four Jaegers Bracer Phoenix, Gipsy Avenger, Saber Athena, and Titan Redeemer.[1]
"Remember" is a brief timeline of events that occurred before the events of Uprising and how much time has passed since the events of Pacific Rim.[1] October 4, 2017, the gojaeger.com website was updated with a "War Clock" countdown (that can be accessed with the code 65*789) that presented glimpses of the Kaiju that would appear in the film.
Jaegeracademy.com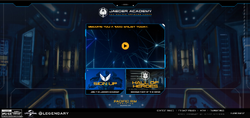 November 16, 2017, Legendary Pictures announced the "Pacific Rim Hall of Heroes" contest[3] allowing fans a chance to appear briefly in the film. gojaeger.com was updated with the redirect url jaegeracademy.com. The domain name hosts Facebook-sync links that allow users entering the contest to "join" the Jaeger Academy to become "cadets". Additionally, users with Facebook accounts can create their own Jaegers in a flash game similar to the original Jaeger Designer.
Trivia
When answering the quiz question "What is the most advanced Jaeger designation built so far?", the answer "Mark-7" will be considered incorrect by the website.[note 1]
Videos
Gallery
Jaeger Blueprints
War Clock
External Links
Notes
References
Community content is available under
CC-BY-SA
unless otherwise noted.