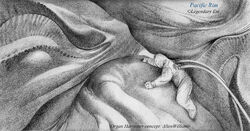 Kaiju organ Harvesters are individuals who collect and sell Kaiju body parts on the black market.[1]
History
Harvesting the organs of a Kaiju is a highly profitable business on the black market. One of the first Kaiju harvested for their organs by harvesters was Onibaba after it was killed in Tokyo by Coyote Tango.[2]
The popularity of Kaiju organ smuggling in the black market rivals that of ivory by the year 2025.[1] Harvesters act separately from the Pan Pacific Defense Corps, operating for others (like Hannibal Chau) or their own personal gain.[3] However, there were instances where the Defense Corps would contract harvesters in order to gain access to Kaiju organs and other parts necessary to conduct studies on Kaiju remains.[4][5] Harvesting Kaiju organs or other body parts from the creatures is considered illegal, prompting harvesters to act quickly when excavating the bodies of fallen Kaiju within an exclusion zone.[3]
Gallery
References