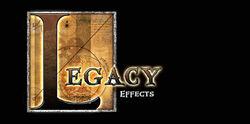 Legacy Effects, LLC is an American special effects studio specializing in creature design, prosthetic makeup, animatronics, and specialty suits.[1] Legacy Effects was responsible for the practical effects used in Guillermo del Toro's Pacific Rim.
History
Founding partners Lindsay Macgowan, Shane Mahan, John Rosengrant, and Alan Scott supervised projects at Stan Winston Studios for over twenty years before Stan Winston's death in 2008.[2] After his death they formed their own company, Legacy Effects. Their first project was the Roland Emmerich film, 2012, their first international project was the Indian film Enthiran in 2010. Enthiran used prosthetic make up and animatronics.
Legacy Effects has contributed practical effects to various films over the years, including James Cameron's Avatar, and multiple Marvel Studio productions, including Iron Man 2, Iron Man 3, The Avengers and the television series, Agents of S.H.I.E.L.D.. Other major projects include Disney's Alice in Wonderland, Snow White and the Huntsman, Life of Pi, and RoboCop'.[3]
Their work has garnered Best Visual Effects Academy Award nominations for Real Steel and Iron Man.[4] Legacy Effects has created effects for and contributed work to over 900 commercials. Notable examples of their commercial work include Destiny, Halo, and the Aflac Duck.
External Links
References