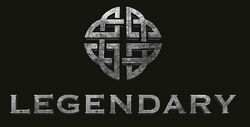 Legend Pictures, LLC, better known as Legendary Pictures (also referred to as Legendary Entertainment), is an American film production company based in Burbank, California.
The company was founded by Thomas Tull in 2000 and in 2005 the company concluded an agreement to co-produce and co-finance films with Warner Bros. Following the expiration of that deal in 2014, Legendary will begin a similar arrangement with Universal Studios. Since 2016, Legendary Pictures has been a subsidiary of the Wanda Group.
History
Thomas Tull founded Legendary Entertainment after raising $500 million from private equity firms.[1] It was one of the first companies of its kind to pair major motion picture production with major Wall Street private equity and hedge fund investors, including ABRY Partners, AIG Direct Investments, Bank of America Capital Investors, Columbia Capital, Falcon Investment Advisors, and M/C Venture Partners.[2] Legendary Pictures, Inc. was incorporated in California in 2000[3] and in 2005 it signed an agreement with Warner Bros. to co-produce and co-finance up to 40 films over seven years.[2]
In 2010 Tull and two other investors, Fidelity Investments and Fortress Investment Group, bought all the shares of the original investors. Following the transaction, Tull became the largest shareholder, thus enabling him to more easily direct the company's operations.[4] In 2011, Accel Partners bought $40 million-worth of shares and Accel partner Jim Breyer joined the company's board of directors.[5]
That same year the company was reported to have been valued at more than $1 billion.[2] In September 2011, Chief Creative Officer Jon Jashni was appointed to the new position of President.[6] In December 2012 Waddell & Reed bought around 20% of Legendary's shares for $443 million.[7]
In July 2013, Legendary reached an agreement with Universal Studios where it will market, co-finance, and distribute Legendary's films for five years starting in 2014, the year that Legendary's similar agreement with Warner Bros. expires.[8]
External Links
References
Community content is available under
CC-BY-SA
unless otherwise noted.