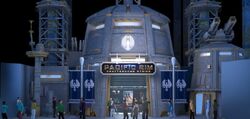 Pacific Rim: Shatterdome Strike is a interactive theme park attraction designed by Legacy Entertainment and Lay-Carnagey Entertainment and developed by Trans Studio Cibubur. Pacific Rim: Shatterdome Strike guides audiences through a battle between the Jaegers and the Kaiju. The attraction officially opened August 17, 2019.[1]
Official Description
"Not too long ago, legions of various monstrous creatures called Kaiju arose from the Pacific Ocean, bringing with them an all-consuming war against humanity. To fight the Kaiju, mankind developed monsters of our own; giant, human piloted robots called Jaegers. However, even with the mighty strength of the Jaegers victory against the Kaiju is not guaranteed. A constant threat lingers below the sea, innovation and technology is our greatest means of ending the on-going war. Today, the newest Jaeger in the Pan Pacific Defense Corps is being launched into service. Storm Garuda represents the pinnacle of human ingenuity; the most advance Jaeger in the fleet will give hope to all of humanity as it guards the Jakarta metropolitan area against the advancing onslaught of the ever-evolving Kaiju."
—Official Description[2]
Jaegars
Kaiju
History
Pacific Rim: Shatterdome Strike was designed by Legacy Entertainment in partnership with Legendary Entertainment and is based on the 2018 film Pacific Rim: Uprising. The project was announced early August 2019 as a "first-to-market" concept for the franchise.[4]
Pacific Rim: Shatterdome Strike features sensory affects and 3D projections designed to better immerse visitors in the Jaeger's fight to save Jakarta, Indonesia from the Kaiju. The attraction lasts a length of twelve minutes and encompasses a total area of 5,000 square meters.[2]
Videos
Gallery
Promotional
Behind the Scenes
Screenshots
External Links
References
Community content is available under
CC-BY-SA
unless otherwise noted.