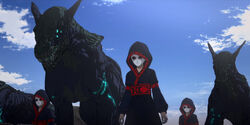 The Sisters of the Kaiju are an enigmatic cultist group who worship the Kaiju.
History
Aftermath
One of the many Kaiju sects that popped up in the wake of their first landfall. A demented enclave of monster worshipers whom believe these titans to be dark angels enacting the vengeance of the gods upon the sins of mankind for their perceived transgression.
Many of whom seeing the Jeager Pilots the towering mechs ridden to meet them in mortal combat as blasphemers and false idols.
Pacific Rim: The Black
The Sisters are one of the many factions in Australia post-Operation Blackout.[1]
In Clayton City, the Sister travel with Rippers and observe the Travis siblings with the Boy on the rooftops. They are unnoticed by the party even after the Boy transforms into a Kaiju. After the destruction of the Copperhead Kaiju, one of the Sisters addresses her comrades that the "Kaiju Messiah" has appeared.[2]
Gallery
Promotional
Trivia
Notes
References