The following is a list of other external and non-canon media appearances by Striker Eureka.
Pacific Rim: Kaiju Battle
Striker Eureka is one of six playable characters that appear in Qualcomm's Pacific Rim: Kaiju Battle mobile game. The color of Striker Eureka's character model can be customized with a color slider and the photo mode option available in the game allows players to insert character models into any photograph taken with the phone or tablet of choice.
Striker Eureka, like the other six playable characters in Kaiju Battle, uses a basic melee moveset and are given a set amount of health, that can be restored after each victory, the opponent must deplete in order to beat them.
Pacific Rim: The Video Game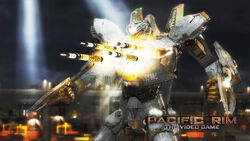 Striker Eureka is one of nine DLC player characters in Yuke's Pacific Rim: The Video Game. The character was added to the game, October 9, 2013, and coast 320 Microsoft points. A set of "additional Jaeger parts" for the player character were also included in the DLC pack and cost a total of 80 Microsoft points. Striker Eureka can be selected for either the game's story mode and versus mode and experience points can be earned in each battle against the Kaiju or another Jaeger.
Striker Eureka's move-set is comprised of basic punches and kicks, guards and guard-breaks, but is given two unique powersets: The "Assault Mount 3.25 Sting Blades," which function as described in other Pacific Rim media, cause considerable damage to an opponent as melee weapons, and the "Anti-Kaiju Missiles," a power move that launches a missile attack that can kill the player's opponent. A pair of smaller but more rapid firing Plasma Casters are mounted on arms.
Basic Stats
Height: 250 ft
Weight: 1850 tons
Speed: 10
Power: 10
Armor: 9
Pacific Rim: The Mobile Game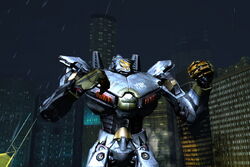 Striker Eureka is one of nine unlockable unlockable player characters in Reliance Games' Pacific Rim: The Mobile Game.[1] Striker Eureka was the last player character unlocked in the game and costs a total of $35000 player points. There are five alternate skins can be used to mod Striker Eureka's character model: "Olive," "Templar Knight," "Blood Knight," "Pulsar Knight," and "Autumn."
Striker Eureka has five available weapons that can be upgraded and purchased and added to its arsenal.[1] Of the five, unique to Striker Eureka is the Rocket Launcher, Pulse Launcher, and the Twin Blades. Of the three weapons, the Twin Blades and the Rocket Launcher were not included with the character and must be purchased separately from the base game.[1]
Basic Stats
Height: 250 ft
Weight: 1850 tons
Speed: 10
Power: 10
Armor: 9
Weapons
References