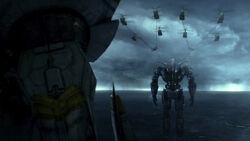 The V-50 Jumphawk is a VTOL twin rotor aircraft used in Jaeger deployment. Jumphawks work in groups, travel long distances and safely drop individual Jaegers into battles.[1]
History
When Jaeger Strike Groups are required to move out from the Shatterdome, certain Jaegers are airlifted from their respective bays by Jumphawks. Jaegers, connected to a system of harnesses that attach to their shoulders, are carried to their destination using eight Jumphawks, four for each shoulder to balance out the weight of the Jaeger transported.[1]
Depending on the distance of the location, Jumphawks will enter the area nearest to the Kaiju attack and may deploy the Jaeger in a location ahead of the Kaiju if it has already breached the Miracle Mile and entered the city.[2]
Trivia
Jumphawks strongly resemble the Boeing CH-47 Chinook.
In Pacific Rim, each of the surviving Jaegers is seen being transported by 8 of these Chinook-like helicopters. In reality, this type of aircraft has a cargo lift capacity of 12.7 metric tons. This means a combined 8 helicopters could lift no more than 101.6 metric tons. Realistically, it would be impossible for a non-composite metal machine the size of a Jaeger to be lifted by 8. For example, Gipsy Danger weighs 1,980 tons, over 19 times the maximum lift capacity.
Rotor disc loading, assuming a 50,000 lb Jumphawk, is almost 100 pounds per square foot, more than 4 times that of the V-22 Osprey.
Jumphawks likely have a range in excess of 2000 miles, as shown during Operation Pitfall, where they seem to have flown nonstop from Hong Kong to Challenger Deep.
Jumphawks may also carry Jaegers (and any of their detached limbs found) back to their shatterdomes once the Kaiju(s) are defeated.
Gallery
References